There are many ways to be an advocate and provide assistance to someone in an abusive situation.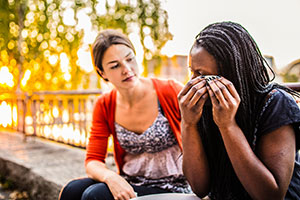 It can be difficult to see someone you care about dealing with the effects and challenges of abuse. Remember: abuse is about power and control. Empowering survivors to make their own decisions can be a great way to start supporting them. Survivors are the experts of their own life and will make their own decisions about their future. It's important for you to support them no matter their decisions and help them find a way to safety and healing.
Here are some powerful ways you can support survivors:
Listen:
Acknowledge their courage in sharing their story. Maintain a non-judgemental attitude and keep their private information safe
Let them know that they are not alone and that there is help and support available. It may be difficult for them to talk about the abuse.
Listen to them and their needs. Don't interrogate them. They may leave and return to the relationship many times. On average it takes someone 7 times before they leave for the final time. They will need your support even more during those times.
Empower:
Encourage them to participate in activities outside of the relationship in spaces with people who are safe and supportive. Remember, abuse thrives in isolation. It is a tool used by abusive people to maintain power and control. Helping a survivor maintain and create safe support systems provides a lifeline for them.
Support:
Focus on offering support and connecting the individual with resources
Help them develop a safety plan & connect to local resources. Check out our information on creating a safety plan for wherever they are in their relationship: choosing to stay, preparing to leave, or having already left.
Assist them in talking with experts who can provide help and guidance. Our counseling and support groups are great places to start counseling and support groups
If they have to go to the police, court or lawyer's office, offer to go along for moral support or connect them to our legal advocate.
Why Survivors Stay: It's Complicated
Victims stay in abusive relationships for many complicated reasons and factors. It's helpful to shift our focus away from the question, "Why do victims stay in abusive relationships," to ask the more productive question: "Why do people abuse?"
Below are some of the behavioral, emotional, and social elements that contribute to a person's capacity to abuse. This is not an exhaustive list, but is meant to shed light on the more complicated and nuanced factors underlying abusive behaviors and mindsets.
Emotional
FEAR:

Many people stay with their abusive partner out of fear. Abusers may threaten harm. That threat may become a reality based on the abuser's past behaviors. Common intimidation that abusers use to keep someone from leaving may include, but is not limited to:
Physical harm
Damaging a person's personal or professional reputation
Destroying a person's personal or professional relationships
Threatening to take the person's children from them
Threatening harm to the person's pets
LOVE & HOPE:

Most abusive relationships do not overtly start off as abusive. In the beginning emotions like love and trust are established. The relationship cycles through times of love and memorable moments (romantic dates or overtures, celebrating significant days such as birthdays or holidays) that transitions into experiences marked by tension and negativity to, eventually, abusive incidents. Many people stay because they are hopeful the abuser will change. This attitude often comes about based on the abuser's promises to seek help, to change, and to go back to the time in the relationship when things were "good."
NEGATIVE SELF ESTEEM & SELF WORTH:

Most abusive relationships include verbal and emotional abuse, which chips away at self-esteem and self-worth. The person often internalizes the verbal and emotional voice, making it part of an ongoing, false narrative about who and what they think they are. This type of internalization often takes support and counseling to overcome.
Financial
DEPENDANCE:

Many abusers create a financially dependent dynamic in the relationship. This type of financial restriction might manifest in the following ways:
Discouraging, preventing, or sabotaging employment opportunities
Putting material assets like cars, homes, or rental leases in their own names in order to have sole claim and control over those items
Creating an overall fiscal atmosphere that leaves the person with such little economic recourse that he or she may worry about becoming homeless or impoverished should they try and leave
WITHHOLDING:

Many abusers withhold financial information from their partner such as bank account balances, electronic log-ins/passwords, or other vital information regarding material assets (i.e. cars, properties). The abuser may also put their partner on an allowance system and/or scrutinize their spending.
DEBT:

Some abusers use their partner's name for credit applications. They may also encourage their partner to open credit cards or put big purchases/agreements in their name only (ex: cars, rental leases, etc.), which ties the victim, but not the abuser, to the debt, keeping them in the
Children
SAFETY:

Children are a significant factor in a person's reasons to stay in an abusive relationship:
Many survivors fear for their children's general welfare and safety
Many survivors are deeply concerned about their child or children having unsupervised, court ordered time or placement with the abuser
NORMALCY OR RELIGION:

Some survivors seek to maintain as much "normalcy" in the family as possible. For example, not wanting to disrupt a child's school schedule with moving. For others, religious beliefs play a role: they feel strongly about keeping the family unit intact in line with religious or spiritual principles.