Healing is a Journey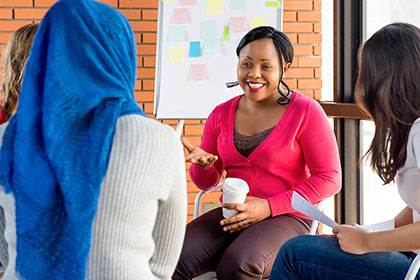 Everyone's path is unique; we are here for you as you move into your own relationship with health and well being. We offer fully inclusive group meetings for survivors–adults and adolescents– experiencing ongoing trauma related to domestic abuse and sexual assault. We also offer one-on-one counseling for adults, adolescents, and children impacted by domestic abuse and sexual assault.
To join our adult and children's support group please call our 24-hour hotline – 262-284-6902 – whenever safe and convenient for you. Most of our support groups are held at our confidential location in Ozaukee County.
Adult Group:
There are two adult support group options, you are able to attend either or both groups based on your needs.
Tuesday Trauma Support Group from 6:30pm – 8:00pm
Our adult support group is a psycho-educational group that explores the dynamics of abuse and impacts of abuse and encourages guests to support each other throughout the healing journey. The group also provides information on local resources.
Thursday Beyond Abuse Support Group from 6:30pm – 8:00pm
This group focuses on life after leaving abuse.
Children's Group:
Our children's group meets every Tuesday and Thursday from 6:30pm-8:00pm, same time as the Adult Support Group.
Our children's support group works to build resilience in our child guests while educating them on a variety of topics using both discussion and age appropriate, hands-on exercises. Topics include: healthy relationships, boundaries, consent, and personal safety. Childcare is provided for younger children.
We are also pleased to note that our friend, Zoey the Comfort Dog, joins our children's support group each month to provide comfort during difficult times and discussions.
Sexual Assault Survivor Group:
TBD, Spring 2020
Our sexual assault survivor group is a group designed to provide and encourage guests to support one another, learn coping skills, and engage in activities that promote healing. To join this group please call or email Shaina at 262-618-2192 ext. 174 or saadvocate@advocates-oz.org . This group is held at our outreach office in Grafton.
Individual Counseling:
Individual counseling is held at our confidential location or our outreach offices. Call our 24-hour hotline – 262-284-6902 – to speak with one of our counselors about availability and scheduling an appointment.