Consider volunteering at Advocates!
Want to make a difference connecting with our staff and residents?

We have several different types of volunteer opportunities:
Individuals:
Children's Support Group: Assist in facilitating evening groups on Tuesday and/or Thursday.
Childcare: Provide childcare at our shelter when individuals have appointments, job interviews, etc.
Transportation: Drive individuals and their children to and from various appointments.
Donation Organization: Organize newly arrived donations in our outdoor sheltered "Hope Room" or in our shelter.
Donation Pick Up: Transport donations from a donor's home to our confidential shelter location.
Landscaping/Maintenance: Assist with lawn care, gardening, landscaping, snow removal, maintenance, and cleaning projects at the shelter.
Professional services needed: Donations of services or reduced costs are also appreciated

Lawyers
Carpenters
Maintenance
Landscaping
Movers
Plumbers/ Electricians/ Printers
Groups:
With our shelter in a confidential location, we have limitations on group volunteering. Generally speaking we are unable to accommodate groups larger than 8 people at our shelter who have not previously volunteered with us. For groups of 8 or smaller, our group volunteer opportunities include but are not limited to:
Deep cleaning bedrooms and common areas within Advocates' shelter.
Deep cleaning indoor and outdoor storage areas, including the basement and garage.
Scraping, scrubbing, cleaning and rinsing play toys and indoor and outdoor play spaces.
Miscellaneous yard work including but not limited to lawn mowing, raking, power washing, and weeding.
Sorting and organizing donations in Advocates' indoor and outdoor storage spaces.
Basic household repairs, such as scraping, sanding and painting, securing shelves, replacing screen windows, etc.
Preparing and cooking meals to be frozen for our shelter guests.
Putting together mailings, outreach packets, and other print materials for distribution.
For groups larger than 8, or for those we are unable to accomodate for whatever reason, we recommend the following volunteer opportunities:
Preparing and cooking meals to be frozen for our shelter guests.
Creating and conducting a donation collection of household and hygiene items (Click HERE to access our shelter Wish Lists).
Internships:
We provide internship opportunities for students studying social work, psychology, or other human service related coursework. We work closely with the student and their school liaison to ensure we meet the requirements of the internship. Most student interns act as a Shelter Associate.
Our Intern Shelter Associate creates a positive atmosphere and provides support and referral services to survivors. Our Intern Shelter Associate maintains health, safety, and cleanliness standards for the shelter. They maintain appropriate and ongoing communication with staff.
Direct Service:
Provide support, crisis response, and referrals to both shelter guests and community clients.
Accurately document shelter guest and phone contacts within our database, document shift activities within our Shift Log.
Complete client intake and exit procedures.
Respond to 24-hour hotline calls and needs, providing support and resources as needed.
Possess full knowledge of shelter policies and procedures and ensure clients understand.
Empower clients to make decisions and take responsibility for their lives and choices.
Support the facilitation of client goals as requested by full-time staff.
Observe and facilitate child and/or adult support groups alongside the group facilitator.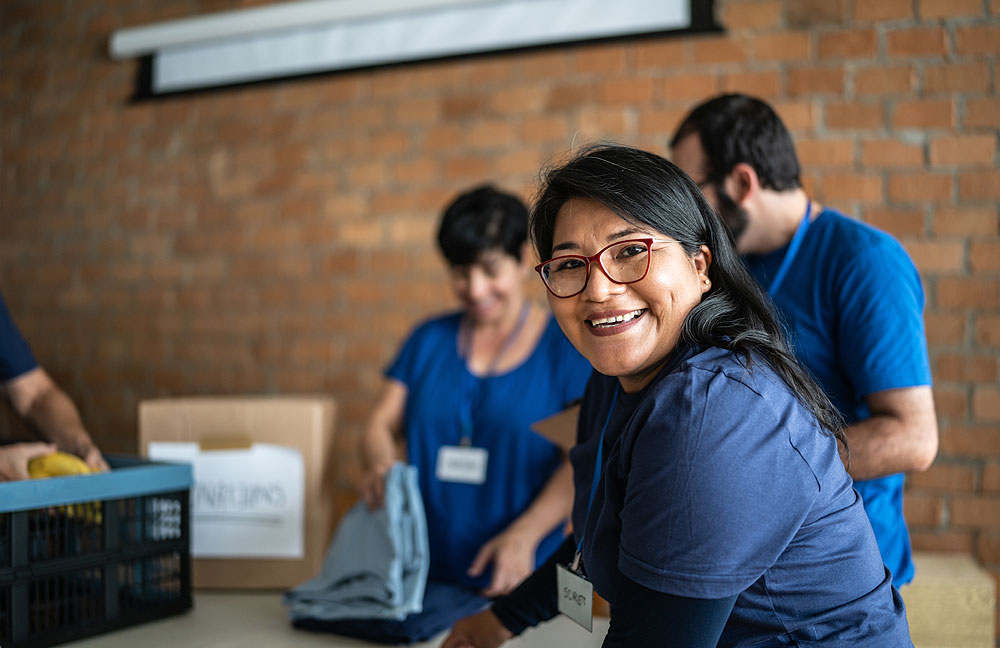 Why I Volunteer
Many years ago, a coworker used the services of the Advocates and her story inspired me to start volunteering"

– Stacie, Donation Pick Up Volunteer since 2001
---
I volunteer with Advocates of Ozaukee because I want to give my community of women and children a better beginning"

– Ruth Maze, Transportation Volunteer since 2004
---
I will always volunteer for advocates because I appreciate the help, empathy and education that they give to the community. It warms my heart to be a part of such a phenomenal organization"

– Glenda, Children's Support Group Volunteer since 2010